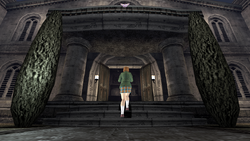 Victoria Hall is a location in Clock Tower 3 that Alyssa Hamilton visits. It is a large concert hall featuring dance and piano competitions. Every Christmas Eve since 1927, it has hosted annual piano competitions called the Annual Piano Concours.
May Norton had taken part in the 15th Annual Piano Concours at the Victoria Hall in Kensington. A consummate pianist, May was widely tipped for first prize, but an unfortunate error in her performance prevented her from taking the crown.

Gallery
Ad blocker interference detected!
Wikia is a free-to-use site that makes money from advertising. We have a modified experience for viewers using ad blockers

Wikia is not accessible if you've made further modifications. Remove the custom ad blocker rule(s) and the page will load as expected.