Purpose
Unlocks locked bathroom stall door
Location
Debilitas (if the player spares him in the chapel)
Appearance
Haunting Ground
| | | |
| --- | --- | --- |
| " | A key given to you from Debilitas. It could use a good cleaning. | " |
The Smudged Key is a key in Haunting Ground.
The Smudged Key can be given to Fiona Belli if she visits Debilitas after defeating him in the chapel. The key itself unlocks the locked stall door in the bathroom that leads to a basement, where the pair of Metal Boots can be found, as well as the Castle Gate Key.
However, if the player chose to instead kill Debilitas, Fiona will not be able to obtain the key and access the boots. However it is possible to create the Metal Boots by synthesizing the Medallions in a specific order in the machine room.
The key's model is actually very different than its inventory icon. This is possibly a goof by the developers.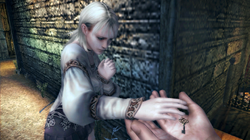 Ad blocker interference detected!
Wikia is a free-to-use site that makes money from advertising. We have a modified experience for viewers using ad blockers

Wikia is not accessible if you've made further modifications. Remove the custom ad blocker rule(s) and the page will load as expected.