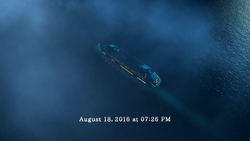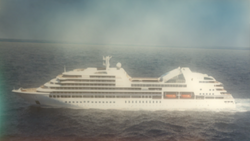 The Oceanus is the main setting of NightCry. It is visited in Chapter One and Three, but only one deck is visited at the beginning of Chapter Two.
The Oceanus is an Italian luxury cruise ship with an interior that mimics that of a high class hotel, bound for the Caribbean Islands.
NightCry
The ship acts as the main setting for the game as the protagonist(s) and her friends board on a return trip after doing field work for their college course.
The heroine and her friends are college students from North America that had fieldwork training in the Aegean islands, making their trip back on this cruise liner.[1]
This cruise begins from Venezia, Italy, making a stop at Southampton, England, then finally crossing the Atlantic en route for the Caribbean Islands.
As the ship sails across the deep blue ocean, a week into the cruise on August 18, 2016, a series of gruesome and mysterious murders begins to take place by a female creature called Scissorwalker, including those of the ship's crew. Soon the ocean liner is crippled and adrift at sea, and has become an inescapable death trap for the passengers.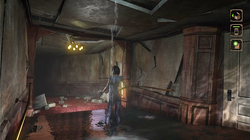 At the end of Chapter Two, an explosion is set off in the ship, making some portions of the ship flooded and sinking. However, it is not enough to sink the ship entirely.
Specifics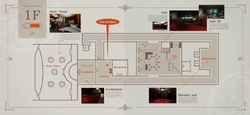 The Oceanus is a premium class cruiser liner that began service in 2003. Weighing 47050 tonnes, and able to accommodate up to 790 passengers, the Oceanus is manned by a crew of 514. It is one of the oldest model cruiser liners owned and managed by Goldhorn Cruise Line. The class of rooms passengers stay in are separated by floor, and the quality of service is clearly different.
Trivia
There was a real cruise liner named Oceanos that sank in 1991 after taking on water during a storm. The captain and most of the crew fled the ship without alerting the passengers to the danger.
Gallery