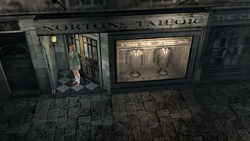 Norton's Tailor is a location in Clock Tower 3. It is an ordinary tailor shop run by William Norton and presumably assisted by Jane Stride. Here, Alyssa Hamilton learns of May Norton and her murderer Sledgehammer.

Gallery
Ad blocker interference detected!
Wikia is a free-to-use site that makes money from advertising. We have a modified experience for viewers using ad blockers

Wikia is not accessible if you've made further modifications. Remove the custom ad blocker rule(s) and the page will load as expected.