I am not complete.
This article is a Stub.
Lend a hand by improving and expanding it!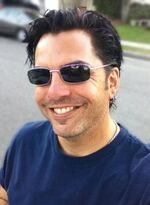 Walter Alexis Lang (born November 12, 1965 in Hollywood, California, USA) is an American actor, voice actor, composer, music producer, entrepreneur, poet and philanthropist.
He voices Debilitas in Haunting Ground.
External links
Gallery
Ad blocker interference detected!
Wikia is a free-to-use site that makes money from advertising. We have a modified experience for viewers using ad blockers

Wikia is not accessible if you've made further modifications. Remove the custom ad blocker rule(s) and the page will load as expected.