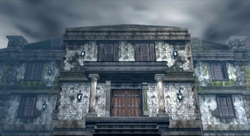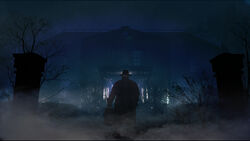 The Hamilton House is a location in Clock Tower 3, presumably somewhere located in England. Alyssa Hamilton resides here along with her mother Nancy Hamilton. It also serves as a residence for lodgers.
History
While one could interpret the house as being built on the ruins of Burroughs Castle, it is possible that the castle seen in the game is merely a summoned manifestation set in an a realm.
Clock Tower 3
Alyssa finds the Sacred Bottle and learns how to use Holy Water.
The house almost acts as a "hub world" for the first half of the game, as Alyssa revisits it often.
The entire house is destroyed when Burroughs Castle emerges.