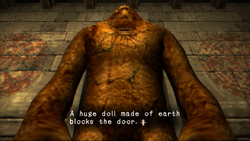 | | | |
| --- | --- | --- |
| " | This golem needs not nourishment nor sleep, making this earthen guardian the ultimate safe-keeper of our deepest alchemic secrets and knowledge. I dub this creature EMETH. | " |
Golems or Emeth are found throughout Belli Castle. They are merely clay figures that stand guard and remain motionless unless a plate key is inserted into a slot in their chests.
Considering that they have a slot that accepts plate keys may hint that they were made sometime when the Plate Key Machine was created.
Fiona Belli encounters her first Golem when a door is blocked by one and the only way to move it was to insert a plate key. Depending on which plate the player uses, the Golem can either move out of the way (Using an "EMETH" plate key) or disintegrate (Using a "METH" plate key) into a pile of dirt and give Fiona the Obsidian Choker.
Trivia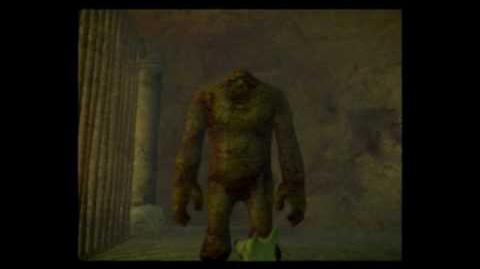 If Fiona inserts a "SALTATIO" plate key into a Golem, he will perform a 10 second Para Para dance, which will completely recover all of Fiona's stats.
The Golems are based off of the mythical creature by the same name.
Capcom's translation of the Book Of Origins' (Book Of Creation) author was poorly translated from Sefer Yetzirah into Seferru Yetira.
Ad blocker interference detected!
Wikia is a free-to-use site that makes money from advertising. We have a modified experience for viewers using ad blockers

Wikia is not accessible if you've made further modifications. Remove the custom ad blocker rule(s) and the page will load as expected.