Appearances
Clock Tower 3
"
It's lovely... so warm and soft. Thank you. Thank you so much.

—Dorothy receives the shawl from her son.

"
Dorothy Rand (ドロシー・ランド Doroshī Rando) is the mother of Albert Rand, and one of the victims of Corroder in Clock Tower 3.
Biography
Dorothy was born in 1898. In 1929, at age thirty-one, she gave birth to a boy, of whom she named Albert. At some point in time, her husband died.
As Dorothy grew older, she began to go blind. Not being able to see very well, her son, who was thirty-four at this time, took the responsibility of caring for her at the Rand House, supporting himself and his mother by making toys for the local children.
In mid-November, 1963, a man named John Haigh, of whom they thought to be a distant relative, came to stay with them. On November 19th, just after Albert had given his mother the shawl he knit for her, Haigh, who revealed himself to be the Subordinate, Corroder, attacked them. He brutally murdered them both by throwing them into a tub of acid, leaving their spirits both blind, and causing them to wander searching for each other in limbo with Corroder's other victims.
Clock Tower 3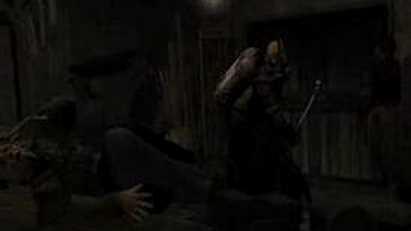 When Alyssa Hamilton arrived on November 19th, 1963, she witnessed Corroder savagely beat Albert and Dorothy, blind them, and put them in a vat of acid.
Alyssa later recovers a shawl that Albert knitted for her. After defeating Corroder, Alyssa gave it to Dorothy, allowing both her and Albert's spirits to see again and rest in peace.
Gallery