Favorite game
It seems that the fan favorite is the spinoff, Haunting Ground, with Clock Tower: The First Fear being the favorite of the main Clock Tower series, and Clock Tower II: The Struggle Within rightfully being the least favorite.
Scariest stalker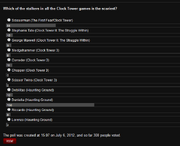 Daniella is the scariest stalker according to most fans, followed by Scissorman.
Favorite protagonist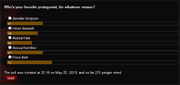 Fiona Belli seems to be a fan favorite, with Jennifer Simpson and Alyssa Hamilton tied for second place.
Ad blocker interference detected!
Wikia is a free-to-use site that makes money from advertising. We have a modified experience for viewers using ad blockers

Wikia is not accessible if you've made further modifications. Remove the custom ad blocker rule(s) and the page will load as expected.