Aureolus Belli
Appearances
Haunting Ground (mentioned)
| | | |
| --- | --- | --- |
| " | The most valuable thing in this world is the Great Truth. | " |
Aureolus Belli is an important figure mentioned in Haunting Ground. He was an important alchemist and philosopher during the Middle Ages when alchemy prospered, studying immortality and the Azoth. To him, immortality meant an undying soul.
He was interested in the "Great Truth", which is implied to be something spiritual or beyond the human realm. It is implied the Great Truth means finding out why humanity and the universe exists, and if there is a god behind it - if there is a reason for life, consciousness and existence. It may also involve finding other life in the cosmos, and reuniting with the original progenitor/creator of life.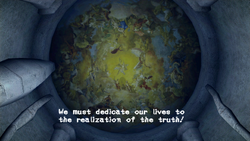 He cloned himself for multiple generations for this purpose, passing on his Azoth for every generation. His descendants who decide to follow in his footsteps and mission of finding the Great Truth also choose to use his name "Aureolus", such as "Aureolus Lorenzo Belli" and "Aureolus Riccardo Belli". Since Ugo Belli apparently chose not to when he eloped with Ayla, he is probably not "Aureolus Ugo Belli". If the player obtains all the unlockables, Fiona calls herself "Aureolus Fiona Belli".
It is implied Aureolus and his descendants also view this cloning process as a way to achieve immortality and living forever, and Lorenzo and Riccardo probably view them as being the same as the original Aureolus, despite being separate bodies. This became his purpose, his ultimate mission - an alchemical truth.