Status
Determined by player
Angie Brown is a character in NightCry. She is the wife of John Thompson, but did not take his surname.
NightCry
In Chapter One, John is killed by Scissorwalker and Monica Flores takes his smartphone. She helps Monica power the elevator by telling her that John's briefcase contains a fuse.
In Chapter Three, Angie makes an appearance to Rooney Simpson in the survivor's room and gives her John's contact details since it acts as a way to contact Monica too.
If Monica found a ring in a vending machine in Chapter One, she will give it to Rooney. Later, Angie can be found hiding in a clothing store. Rooney may then give her the ring.
Her fate is determined by the player. If the player leaves her alone for the rest of the game, she presumably lives. However, if the player hides in the clothing store's rack while being chased by Scissorwalker, Angie sacrifices herself to save Rooney.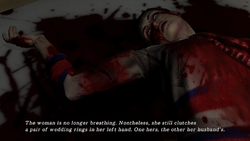 Ad blocker interference detected!
Wikia is a free-to-use site that makes money from advertising. We have a modified experience for viewers using ad blockers

Wikia is not accessible if you've made further modifications. Remove the custom ad blocker rule(s) and the page will load as expected.